Weekly & Monthly Classes
Paradise Tango offers weekly group tango classes for a range of experience levels. We also offer fitness classes as well. Go to our Group Classes link (above) or click "Read more" below to find out more information!
Sunday 11-Noon: Tango 101 Series*
Sunday Noon-1 pm: Beginning Tango
Sunday 1-2pm: Inter/Adv Tango
Sunday 2-3pm: Stretching & Balance
Thursday 6:30-7:30: Rollout
Thursday 7:30-9pm: Class & Practica
Paradise Tango offers Monthly classes:
1st Friday 7-8 pm: Leading for Followers
Paradise Tango offers Series Classes
Sunday 11-Noon: Tango 101 Series (September 8th-October 20th)
NOTE: Non-Paradise Tango Classes are listed on the Calendar in Green with Green Shading and not included in the list above.
Calendar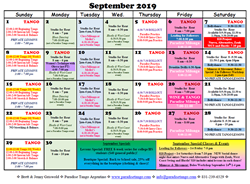 Click on the Calendar image above to link to our PDF Calendar. For past and future calendars (when available) click on the "Calendar (All)" link above in the menu.
Our Calendar includes all Paradise Tango events, important community events, and non-Paradise Tango classes held at the studio (e.g. Blues, Belly dance, Hustle).